As a pioneer of functional natural materials, we support the development of pharmaceuticals and health foods.
Management Vision
A company that delivers health and reassurance, and also employees work with a sense of solidarity with colleagues who are proud of their work and roles as a company.
Message from the President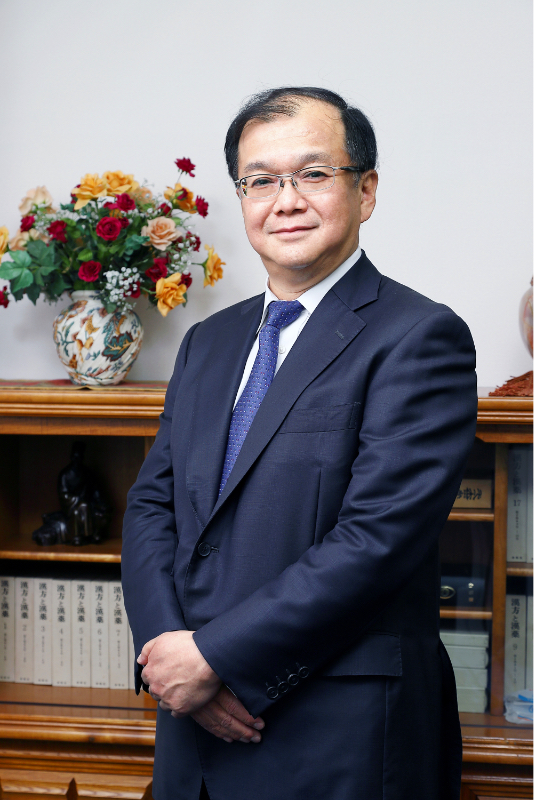 Shoichi Kuwano:President
With natural raw materials imported from all over the world, providing a stable supply under strict quality control to our customers so that consumers can lead healthy and comfortable lives. Protecting the health of citizens to be free from disease. We at NIPPON FUNMATSU YAKUHIN Co.,LTD. believe that that is our greatest mission.
With the advent of an aging society and a rise in health consciousness, as traditional Chinese medicines and crude drugs, as well as health products are attracting attention, natural raw materials have become a tide in the health industry that is permeating into people's lives. In addition, in recent years, this trend is expanding to the use of seasonings and flavorings in food product materials, in order to meet the needs of consumers for natural and genuine products. In accepting this trend, the role that we must play has become increasingly greater.
Thus, in order to deal in detail with the individual demands of customers, we have set up production bases specializing in different fields in five places, and by also having research facilities in two places, we have established a system to cover a wide range of products, everything from pharmaceuticals and health foods to food and beverages. What is more, by taking advantage of the technology and experience accumulated in the pharmaceutical field, we are also focusing on the development of new food materials to meet consumer needs. The Japanese vegetable powder series and the e-extracts series with its elevated product value due to the improved flavoring are one example of this.

Of course, safety control is also indispensable in fulfilling our mission as part of the health industry. All employees have a feeling of responsibility given that we handle items that will go into people's mouths, so that each and every employee pays careful attention to each step, from the procurement of raw materials to their processing and supply.
The world is constantly changing and so are consumer needs. I believe that our mission involves dealing with these changes, researching and developing the materials that we handle, and continuing to create new values. NIPPON FUNMATSU YAKUHIN Co.,LTD. will continue taking on new challenges daily, aiming to become the company that our customers and consumers demand.
Corporate Profile
Company Name

NIPPON FUNMATSU YAKUHIN Co.,LTD.

Headquarters

2-5-11, DOSHOMACHI CHUOKU OSAKA 541-0045 JAPAN

Established

1947

President

Shoichi Kuwano

Scope of Business

Production and distribution of materials for crude drug products, health foods, and cosmetics

Major Business Partner

Pharmaceutical companies, food manufacturers, cosmetics manufacturers

Business Offices

Osaka, Tokyo

Factory

Iga Factory, Yao Factory, Hiraoka Factory, Kano Factory, Mizuhai Factory

Laboratory

Tondabayashi Laboratory, Creative Value research and development center
Types of Materials Handled
Materials for traditional Chinese medicine, quasi-drugs, cosmetics, and health foods
For pharmaceutical products

Dry extracts, Soft extracts, Fluidextructs, Tinctures, Powder, Cut materials

For food products

e-extracts, Powdered extracts, Soft extracts, Liquid extracts, Powder, Cut materials
History
1947

NIPPON FUNMATSU YAKUHIN Company Limited Launched.
Yao Factry established.
Production of crude drug powder for prescription drugs started.

1954

Production of crude drug powder for materials started.

1958

Crude Drug Extraction Division established.

1964

Trading Division established.

1977

Hiraoka Factory established.

1988

Iga Factory established.

1995

New head office building Completed.

2003

Tondabayashi Laboratory established.

2005

Mizuhai Factory established.

2006

Organic JAS certified. (Hiraoka Factory, Mizuhai Factory)

2010

Kano Factory established.

2012

Yao Factory rennovated.

2015

Organic JAS certified. (Kano Factory)

2016

FSSC22000 certified. (August | Kano Factory)

2017

Creative Value research and development center established.

2020

Creative Value research and development center renew established.

2021

JFS-B Standard certified.(January | Yao Factory, February | Iga Factory)